lovelyangel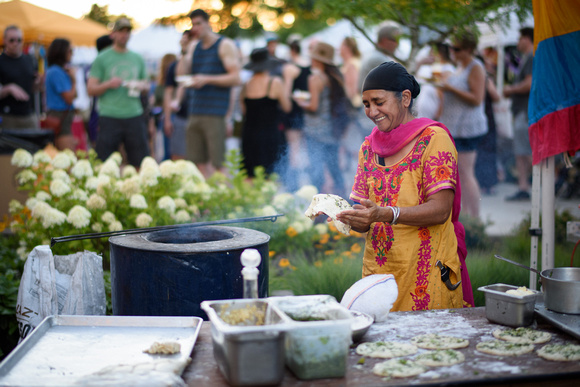 Beaverton Night Market
The Round • Beaverton, Oregon
Saturday, July 22, 2017
Last night (Saturday) was the first of two
Beaverton Night Market
s for this summer. I've been planning to attend only one, and the second one is on the same day as the
Oregon Handmade Bicycle Show
. So… the first one or nothing. I went.
I did review my
Blog Post from Last Year
and my
Photos from last Year
to figure out a strategy. Again, I didn't want to make a big thing out of this. The Night Market is fun, but it's not one of my major photo events of the year.
I used the
GoldenHour.one
app on my iPhone to calculate the difference in golden hours between this year (July 22) and last year (August 13). And I wanted to spend more time in the dark. I figured arriving about 30 minutes later than last year would be fine. I used the
PDX Bus
app to check realtime arrivals/departures at Millican Way MAX station, and timed my departure from home about 15 minutes ahead of the next train. On arrival I had about 4 minutes to spare, so my wait was short. The train arrived at 8:15 pm. Beaverton Central is only one stop away, so I was there by 8:18.
The market was really, really crowded. I thought it was bad last year, but it was even worse this year, even though more physical space had been allocated. (I think there were more booths, also.) The crowds were all along the booths, and there were also long lines for many of the food booths. There were fewer people in the chalk area for kids, so that's where I started out.
I did try to visit booths and take pictures, but it was tough with so many people. I simply did the best I could, reminding myself that this was just a minor photo op, and I didn't have to be super photographer.
As the dusk settled in, I started playing follow the light – and that's pretty much what I did for the rest of the evening. As the sun went down, the air started to cool
a little
(it had been a 90°F day) – but more importantly a refreshing breeze started to ripple through the market. That was really nice – especially after 9:00 pm when the crowd started to thin a little. The market remained very busy, but movement was easier, and there were some small open spaces around some of the booths.
When the night started to take over, and the number of people continued to fall, the market felt closer to what a
natsu matsuri
should be like. I really enjoyed the end time of the market. Walking was comfortable, and I followed the light to various booths, where the activities were illuminated by random, artificial lamps.
I stayed until 9:50 pm, and the market was scheduled to end at 10:00 pm. There were still a
lot
of people at the stage performance, and I wanted to catch a MAX train before the masses clogged up the station. From the time I caught MAX at 9:50 pm to the time I got home was only 10 minutes! Home-to-home total elapsed time was two hours.
The photos have been posted to the
Beaverton Night Market 2017 Photo Gallery